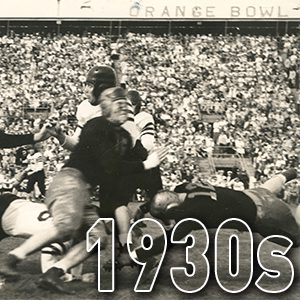 JANUARY 1, 1935
BISON CAPTURE FIRST ORANGE BOWL
BUCKNELL    26    MIAMI     0
Bucknell, champion of the smaller Eastern colleges, was the first team invited to the Orange Bowl Classic, which had been called the Palm Festival for the previous two years. The Bison defense held Miami to just four first downs and 28 yards total offense en route to the inaugural 26-0 victory.
JANUARY 1, 1936
CATHOLIC HOLDS OFF LATE RALLY
CATHOLIC    20    MISSISSIPPI    19
The second Orange Bowl Classic featured out-of-state schools Catholic University and the University of Mississippi, with Catholic prevailing 20-19.
JANUARY 1, 1937
DESPERATION PASS UPSETS MAROONS
DUQUESNE    13    MISSISSIPPI ST.    12
A desperation 72-yard touchdown pass from tailback Boyd Brumbaugh to Ernie Hefferle spelled an end to Mississippi State's upset hopes as Duquesne edged the Bulldogs 13-12.
JANUARY 1, 1938
AUBURN SQUEAKS BY SPARTANS
AUBURN    6    MICHIGAN STATE    0
In the lowest scoring game in Orange Bowl history, Auburn won 6-0 while Michigan State's offense sputtered the entire day. The Tigers participated in the Orange Bowl after the Southeastern Conference officials voted 7-6 lifting a ban which forbade SEC teams from playing postseason games in bowls other than the Rose and Sugar Bowls. A sellout crowd of nearly 19,000 attended the game at Miami's brand-new $360,000 Orange Bowl Stadium.
JANUARY 1, 1939
ORANGE BOWL DECLARED "MAJOR BOWL"
TENNESSEE    17    OKLAHOMA    0
A match-up of undefeated Tennessee and Oklahoma propelled the Orange Bowl into the "major bowl" arena in 1939. It took some marketing and public relations moves by the OBC's Earnie Seiler to bring the Sooners to South Florida. Seiler went to Norman and covered the campus with posters of palm trees, beaches and Miami's young women. After a stirring pep talk to the OU squad, the Sooners voted to accept the Orange Bowl offer over more lucrative ones from the Cotton, Rose and Sugar Bowls.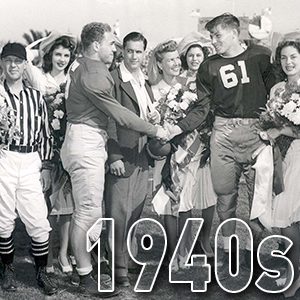 JANUARY 2, 1940
GEORGIA TECH UPSETS MISSOURI
GEORGIA TECH    21    MISSOURI    7
The Yellow Jackets made their first of five trips to the Orange Bowl a successful one, defeating Big Six champion Missouri, 21-7, behind the heroics of 147-pound Johnny Bosch, who outran and out-passed the Tigers' all-America "Passin" Paul Christman.
JANUARY 1, 1941
SPECIAL TEAMS SAVES STATE

MISSISSIPPI ST.    14    GEORGETOWN    7
Famed Georgetown guard Augie Lio thought the Hoyas were a victim of Southern officiating in the 1941 game, as Mississippi State won a defensive struggle with Eastern power Georgetown, 14-7, to earn its first bowl victory in history. With MSU leading 7-0, Georgetown's Julius Koshlap hit Arthur Lenski for 46 yards to the state four. However, the referee called it back when he said Koshlap was not five yards behind the line when he launched the ball, a rule at that time.
JANUARY 1, 1942
BULLDOG STAR SINKS TCU

GEORGIA    40    TEXAS CHRISTIAN    26
Georgia All-American quarterback, future Heisman Trophy winner and Orange Bowl Hall-of-Honor member Frankie Sinkwich, playing with an oversized chin mask to protect a broken jaw, put on an offensive display still considered by many as the greatest in any bowl game as he led his Bulldogs to a 40-26 win over Texas Christian.
JANUARY 1, 1943
SOLO-SOARING EAGLE NOT ENOUGH
ALABAMA    37    BOSTON COLLEGE    21
Stung by two first-quarter Boston College touchdowns, Alabama regrouped to score 22 second-quarter points en route to a 37-21 victory in its first Orange Bowl appearance.
JANUARY 1, 1944
VAN BUREN STEALS SHOW IN WIN

LOUISIANA STATE    19    TEXAS A&M    14
Steve Van Buren ran and passed for two first-quarter touchdowns and then sewed up the victory with a 63-yard scoring run in the third as Louisiana State beat Texas A&M 19-14 in a war-time game.
JANUARY 1, 1945
TULSA GAINS REVENGE ON TECH

TULSA    26    GEORGIA TECH    12
Quarterback Frank Broyles' Orange Bowl-record 304-yard passing attack was not enough for Georgia Tech as Tulsa avenged a 20-18 loss in the 1944 Sugar Bowl with a 26-12 win over the Yellow Jackets.
JANUARY 1, 1946
HURRICANES FEELING RIGHT AT HOME

MIAMI    13    HOLY CROSS    6
While the rest of the state celebrated its centinal anniversary, a capacity crowd saw what was probably the most exciting finish in Orange Bowl history as Miami's Al Hudson intercepted a pass and returned it 89 yards for the winning touchdown with no time remaining on the clock to defeat a shocked Holy Cross squad, 13-6.
JANUARY 1, 1947
BLOCKED PUNTS BRING DOWN VOLS

RICE    8    TENNESSEE    0
Eight first-quarter points, including a safety off of a blocked punt, paved the way for an 8-0 upset of Tennessee by Rice.
JANUARY 1, 1948
JACKETS HOLD OFF JAYHAWKS

GEORGIA TECH    20    KANSAS    14
Georgia Tech held off a furious late rally from Kansas that included a goal line fumble in the game's final seconds to defeat the Jayhawks by a 20-14 score. The Jayhawks were a two touchdown underdog to Bobby Dodd's powerful Yellow Jackets.
JANUARY 1, 1949
LATE TDS KEY LONGHORN WIN

TEXAS    41    GEORGIA    28
The Texas Longhorns came out on top in this high-scoring affair and the lead changed hands six times before Coach Blair Cheery's squad handed Georgia a 41-28 setback. The combined 69 points scored in the contest tied the most ever in the Orange Bowl's 56-year history.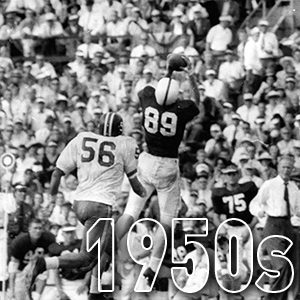 JANUARY 2, 1950
LONGSHOT SANTA CLARA UPSETS 'CATS

SANTA CLARA    21    KENTUCKY    13
Underdog Santa Clara scored 14 third-quarter points and withstood the challenge of Kentucky quarterback Babe Parilli to gain a 21-13 win. It was Bear Bryant and Kentucky's first major bowl appearance. Santa Clara's 3,300-mile, four-day trip by train to Miami marked its only appearance in the Orange Bowl.
JANUARY 1, 1951
MIAMI LOSES ON SAFETY

CLEMSON    15    MIAMI    14
Clemson backup defensive guard Sterling Smith nailed Miami halfback Frank Smith for a safety late in the game to give the Tigers a 15-14 win over the Hurricanes.
JANUARY 1, 1952
LATE FIELD GOAL BEATS BAYLOR

GEORGIA TECH    17    BAYLOR    14
Georgia Tech broke a 14-14 tie late in the fourth quarter on a 22-yard Pepper Rodgers field goal to beat Baylor 17-14 on a hot, muggy day in Miami. Undefeated and once-tied Georgia Tech came into the game as co-champion of the Southeastern Conference while Baylor was the Southwest Conference's runner-up.
JANUARY 1, 1953
ORANGE BOWL TELEVISED FOR FIRST TIME

ALABAMA    61    SYRACUSE    6
Heavily-favored Alabama surprised no one as it dominated Syracuse in the most lopsided Orange Bowl Classic in history. The Crimson Tide held a 21-6 halftime advantage and tacked on 20 points in each of the final quarters to embarrass the Orangemen, 61-6.
JANUARY 1, 1954
SOONER DEFENSE SHUTS DOWN NO.1

OKLAHOMA    7    MARYLAND    0
Top-ranked University of Maryland, minus All-America quarterback Bernie Faloney, was shut out for the first time in 51 games by fourth-ranked Oklahoma, 7-0, in the 20th Orange Bowl Classic. The Terrapins, champions of the new Atlantic Coast Conference, were college football's dynasty. During the regular season, the Maryland defense had allowed a mere 84 rushing yards per game. The match-up was the first of five straight Atlantic Coast Conference-Big Seven clashes.
JANUARY 1, 1955
DUKE TURNS NEBRASKA BLUE

DUKE    34    NEBRASKA    7
Duke won the Atlantic Coast Conference in 1954 and Oklahoma won the Big Seven, but the Sooners stayed home because of a conference rule that prohibited consecutive Orange Bowl appearances. This allowed runner-up Nebraska to enter the game, which they lost to the Blue Devils, 34-7.
JANUARY 2, 1956
NO. 1 OKLAHOMA KEEPS STREAKING

OKLAHOMA    20    MARYLAND    6
Oklahoma's 30-game winning streak remained intact as it swept by a strong Maryland squad, 20-6, in a rematch of the '54 Orange Bowl. Read more here.
JANUARY 1, 1957
COMEBACK FOR TIGERS FALLS SHORT

COLORADO    27    CLEMSON    21
Clemson mounted one of the greatest comebacks in Orange Bowl history, but fell short when Colorado intercepted a pass deep in its territory on the last play of the game. In that final series, Clemson's Willie Smith recovered a Buffalo fumble at the Colorado 27 with his team trailing 27-21. But the Buff's Bob Stransky intercepted quarterback Charlie Bussey's pass to save the game.
JANUARY 1, 1958
SOONERS FLURRY BREAKS OPEN GAME

OKLAHOMA    48    DUKE    21
Fourth-ranked Oklahoma unleashed a furious attack in the fourth quarter, scoring 27 unanswered points to break open a close game with Duke. With the score 21-14, Oklahoma capitalized on three Duke miscues, scoring three times in the next 3:23 and turning this one into a 48-21 rout. A crowd of 76,561 was on hand.
JANUARY 1, 1959
BIG PLAYS PROPEL SOONERS

OKLAHOMA    21    SYRACUSE    6
Oklahoma hit Syracuse with three "homerun" plays, and was fortunate to escape the Silver Anniversary Orange Bowl with a 21-6 win. Syracuse dominated the Sooners in every category, including total yardage.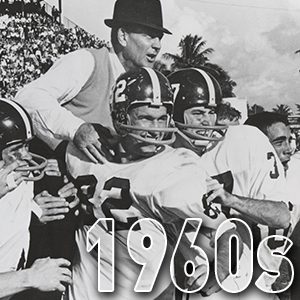 JANUARY 1, 1960
TARKENTON RALLIES GEORGIA

GEORGIA    14    MISSOURI    0
The nation was first introduced to quarterback Fran Tarkenton in the '60 Orange Bowl Classic, as the Georgia senior used his scrambling ability to lead his team to a 14-0 win over Missouri. Tarkenton threw for two touchdowns on broken plays and completed nine of 16 passes for 131 yards. Georgia head coach Wally Butts coached his last Bulldog game.
JANUARY 2, 1961
NAVY'S WEAPON SILENCED

MISSOURI    21    NAVY    14
Missouri held Navy Heisman Trophy and Maxwell Award winner Joe Bellino to just four yards rushing and came away a 21-14 winner on a day of big plays. Missouri avenged a 1960 Orange Bowl loss and would have finished the season as national champion had it not been for a regular season-ending loss to Kansas.
JANUARY 1, 1962
BLOCKED PUNTS PROPEL TIGERS

LOUISIANA STATE    25    COLORADO    7
Louisiana State's Paul Dietzel, coaching his last game for the Tigers, watched while his team turned Colorado punts into scores in a 25-7 triumph over the Big Seven opponent. Dietzel had noticed a quirk in the Colorado center's snaps and used it to his team's advantage in this battle of top 10, once-beaten teams.
JANUARY 1, 1963
JFK WATCHES 'BAMA'S SHOW

ALABAMA    17    OKLAHOMA    0
President John F. Kennedy was one of 73,380 fans to witness Alabama linebacker Lee Roy Jordan single-handedly turn back Oklahoma, 17-0.
JANUARY 1, 1964
NEBRASKA HOLDS OFF LATE RALLY

NEBRASKA    13    AUBURN    7
Nebraska linebacker John Kirby batted away an Auburn pass on fourth down as the final seconds ticked away in the '64 Orange, giving his team a 13-7 win. Both teams came into the Orange Bowl with identical 10-1 records with Nebraska ranked fifth and Auburn sixth in the UPI poll. The AP poll figured it the another way. Nebraska head coach Bob Devaney made his first appearance in the Orange Bowl.
JANUARY 1, 1965
FIRST NIGHT GAME A CLASSIC
TEXAS    21    ALABAMA    17
Texas upset top-ranked Alabama, 21-17, in the first prime-time night game in Orange Bowl history. The Longhorns stopped Alabama quarterback Joe Namath just short of the goal line on a crucial fourth-down play late in the game that would have given the Crimson Tide the lead. The defeat overshadowed a heroic performance by Namath, the senior quarterback who didn't start the game because of a knee injury. He completed 18 of 37 passes for 255 yards and two touchdowns and was named the game's Most Valuable Player.
JANUARY 1, 1966
SLOAN PASSES UNDERDOG ALABAMA

ALABAMA    39    NEBRASKA    28
Alabama coach Bear Bryant gave quarterback Steve Sloan the green light to throw on any down, and Sloan set Orange Bowl passing records in leading the Tide to a 39-28 victory over powerhouse Nebraska. The Tide's Perkins caught an Orange Bowl-record nine passes for 159 yards, a mark that stood for 25 years.
JANUARY 2, 1967
SMITH RUNS OVER GEORGIA TECH

FLORIDA    27    GEORGIA TECH    12
Halfback Larry Smith rushed for 187 yards, including a third-quarter 94-yard touchdown sprint, as Florida rolled over eighth-ranked Georgia Tech, 27-12. The '67 Orange marked legendary Bobby Dodd's last appearance as head coach at Georgia Tech. Florida head coach Ray Graves had been Dodd's assistant at Georgia Tech for 14 years.
JANUARY 1, 1968
VOLS' MISS GAME WINNING FG

OKLAHOMA    26    TENNESSEE    24
A 43-yard field goal attempt by Tennessee's Karl Kremser with seven seconds left sailed wide right, leaving Oklahoma with a narrow 26-24 Orange Bowl victory over Oklahoma. The miss saved Oklahoma first-year coach Chuck Fairbanks from being the game's goat after he made a coaching miscue minutes earlier.
JANUARY 1, 1969
LATE PENALTY GIVES PSU WIN
PENN STATE    15    KANSAS    14
Given a second try due to a Kansas penalty, Penn State scored on a late two-point conversion to beat the Jayhawks, 15-14, in the 35th Orange Bowl. Kansas had held on the previous attempt, but referee Foster Grose noticed 12 men on the field and awarded a second try to the Nittany Lions. Bob Campbell swept over the left side of the line for the win.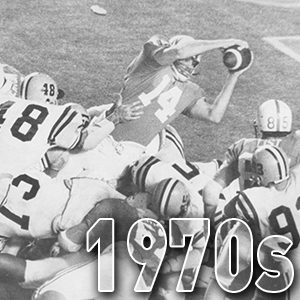 JANUARY 1, 1970
PSU FINISHES UNDEFEATED, NO. 2

PENN STATE    10    MISSOURI    3
Second-ranked Penn State saw its chances for a national title expire when Texas finished its season earlier in the day with a Cotton Bowl title, but Joe Paterno's squad still completed an undefeated season with a 10-3 win over Missouri. Penn State sophomore Franco Harris had 17 carries for 46 yards in a game that featured 19 future National Football League stars.
JANUARY 1, 1971
NEBRASKA DOWNS LSU FOR TITLE

NEBRASKA    17    LOUISIANA STATE    12
Coach Bob Devaney's Nebraska Cornhuskers won their first of two consecutive national championships by virtue of a 17-12 win over Louisiana State. Earlier in the day, top-ranked Texas was upset by Notre Dame in the Cotton Bowl and number two-ranked Ohio State was shocked by Stanford and Jim Plunkett in the Rose.
JANUARY 1, 1972
'HUSKERS WIN SECOND STRAIGHT TITLE

NEBRASKA    38    ALABAMA    6
A match up between top-ranked Nebraska and No.2-ranked Alabama was billed as the "Game of the Century II", but the 'Huskers proved to be far superior as they handed Alabama and coach Bear Bryant a 38-6 defeat. Devaney notched his first win in three tries over Bryant.
JANUARY 1, 1973
DEVANEY GOES OUT ON TOP

NEBRASKA    40    NOTRE DAME    6
Heisman Trophy winner Johnny Rodgers closed out his collegiate career in style, scoring four touchdowns and passing for another as Nebraska became the first team to win three straight Orange Bowl titles by romping over Notre Dame, 40-6.
JANUARY 1, 1974
PENN STATE REMAINS UNBEATEN

PENN STATE    16    LOUISIANA STATE    9
Undefeated Penn State moved its record to 12-0 on the season as it took advantage of consistently poor Louisiana State field position to win 16-9. Louisiana State out gained the Pennsylvania team 274 yards to 185 and held Heisman Trophy winner John Cappelletti to 50 yards. Although Penn State finished undefeated, the polls still had the Nittany Lions ranked fifth.
JANUARY 1, 1975
IRISH SPOIL 'BAMA TITLE HOPES

NOTRE DAME    13    ALABAMA    11
Notre Dame players sent coach Ara Parseghian out with a win, upsetting number one-ranked Alabama, 13-11, in an exciting Orange Bowl contest that went down to the wire.
JANUARY 1, 1976
SOONERS GET DEFENSIVE FOR TITLE

OKLAHOMA    14    MICHIGAN    6
Second-ranked Oklahoma survived a defensive battle with Big Ten runner-up and fourth-ranked Michigan, winning its second national championship in the Orange Bowl by a 14-6 count.
JANUARY 1, 1977
BUCKEYES GO TO BENCH FOR OFFENSE

OHIO STATE    27    COLORADO    10
The Ohio State offense, led by second-team quarterback Rod Gerald, came alive in the second period as the Buckeyes went on to beat co-Big Eight champion Colorado, 27-10.
JANUARY 2, 1978
ARKANSAS SALES PITCH WORKS

ARKANSAS    31    OKLAHOMA    6
Reserve running back Roland Sales rushed for an Orange Bowl-record 205 yards on 22 carries and a pair of touchdowns in Arkansas' 31-6 upset over a championship-minded Oklahoma. With top-ranked Texas losing earlier in the day in the Cotton, all Oklahoma had to do was win to achieve the top ranking. Also in the Sooners' corner was the suspension of three Arkansas starters by head coach Lou Holtz prior to the trip to Miami. But it was not to be.
JANUARY 1, 1979
OKLAHOMA STINGS NEBRASKA IN BIG 8 CLASH

OKLAHOMA    31    NEBRASKA    24
Oklahoma, with the help of a 17-point third quarter, avenged a regular-season loss to Nebraska with a 31-24 win. With a Big Eight Championship tie, the Orange Bowl officials came up with the idea of a rematch. It was the first-ever match-up of two Big Eight teams in a bowl game.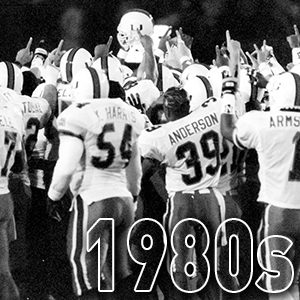 JANUARY 1, 1980
SOONERS SPOIL SEMINOLE UPRISING

OKLAHOMA    24    FLORIDA STATE    7
J.C. Watts and Billy Sims each rushed for more than 100 yards and a stingy Oklahoma defense shut down undefeated and fourth-ranked Florida State for a 24-7 victory.
JANUARY 1, 1981
WISHBONE WATTS AIRS OUT FSU

OKLAHOMA    18    FLORIDA STATE    17
Oklahoma quarterback J.C. Watts went to the air in the fourth quarter to defeat Florida State, 18-17, in an exciting finish.
JANUARY 1, 1982
CLEMSON PERFECT IN TITLE GAME

CLEMSON    22    NEBRASKA    15
Top-ranked Clemson won its first national championship and finished with its third perfect season in its 88-year history with a 22-15 win over Nebraska in the 48th Orange Bowl.
JANUARY 1, 1983
FUMBLIN' NEBRASKA HOLDS ON

NEBRASKA    21    LOUISIANA STATE    20
Louisiana State's Tigers came within one point of upsetting No. 3 Nebraska, but the Huskers held on to win 21-20. Despite four fumbles and a pair of interceptions, the Big Red Machine was able to come back from a 17-7 deficit to win.
JANUARY 2, 1984
GOLDEN GAME FOR HURRICANES

MIAMI    31    NEBRASKA    30
In arguably the greatest college football bowl game ever played, Miami won its first national championship, 31-30, after Nebraska missed a two-point conversion attempt in the 50th anniversary Orange Bowl Classic. The first Husker points came on a second period Dean Steinkuhler's controversial 19-yard "fumblerooskie" play.
JANUARY 1, 1985
HUSKIES BEAT SOONERS, FINISH NO. 2

WASHINGTON    28    OKLAHOMA    17
Washington, the first Pac-10 team to be invited to the Orange Bowl, rallied to beat No. 2 Oklahoma, 28-17.
JANUARY 1, 1986
HOLIEWAY STEERS SOONERS TO TITLE

OKLAHOMA    25    PENN STATE    10
Oklahoma scored 16 second-quarter points and shut out top-ranked Penn State in the second half as it won its third national championship in the Orange Bowl.
JANUARY 1, 1987
SOONERS STEAMROLL RAZORBACKS

OKLAHOMA    42    ARKANSAS    8
The University of Oklahoma capped its third consecutive season as Big 8 Champions with a 42-8 rout of the Arkansas Razorbacks in the 1987 Orange Bowl.
JANUARY 1, 1988
MIAMI EARNS CHAMPIONSHIP RING

MIAMI    20    OKLAHOMA    14
For the second time in five years, Miami became the national champion in the Orange Bowl, this time knocking off Oklahoma, 20-14.
JANUARY 2, 1989
'CANES PASS TEST, FINISH NO. 2

MIAMI    23    NEBRASKA    3
Second-ranked Miami, with no chance to repeat as national champion after undefeated Notre Dame won earlier in the day, overwhelmed Nebraska 23-3 in the 55th annual Orange Bowl. It was Head Coach Jimmy Johnson's last game at Miami before moving on to the NFL.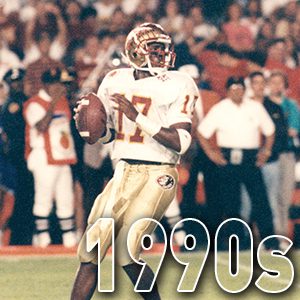 JANUARY 1, 1990
NOTRE DAME STAMPEDES COLORADO
NOTRE DAME    21    COLORADO    6
Notre Dame took advantage of three first-half missed scoring opportunities by Colorado and handed the 11-0 top-ranked Buffs a 21-6 defeat.
JANUARY 1, 1991
BUFFS HANG ON TO WIN TITLE

COLORADO    10    NOTRE DAME    9
The 1991 Colorado Buffaloes, a team of comebacks and controversy, overcame the loss of top quarterback Darian Hagan to earn its first national championship with a 10-9 victory over Notre Dame.
JANUARY 1, 1992
SHUTOUT GIVES 'CANES THIRD TITLE

MIAMI    22    NEBRASKA    0
For the third time in five years, and the fourth in seven, the FedEx Orange Bowl was the cream of the proverbial crop of New Year's Day bowl games as Miami soundly defeated Nebraska, 22-0, to take a share of the national championship. Miami finished No. 1 in the Associated Press poll while the University of Washington got the nod from the coaches' poll.
JANUARY 1, 1993
SEMINOLES CAPTURE FIRST ORANGE BOWL WIN

FLORIDA STATE    27    NEBRASKA    14
Florida State won its first Orange Bowl game, 27-14, with a 13-point second quarter that proved too much for Nebraska. Florida State finished second in the AP Poll while Nebraska dropped to 14. It was the fourth No. 2 finish for the Seminoles since 1987. The halftime show was cancelled for the first time in history due to flooding prior to the game.
JANUARY 1, 1994
FLORIDA STATE WINS FIRST NATIONAL TITLE

FLORIDA STATE    18    NEBRASKA    16
Led by Charlie Ward, Florida State came from behind to defeat Nebraska 18-16 to secure the school's first-ever national crown. An Orange Bowl-record crowd of 81,536 witnessed just the 11th meeting ever between the No. 1 and No. 2 ranked teams and just the third ever in the Orange Bowl.
JANUARY 1, 1995
OSBORNE WINS FIRST TITLE

NEBRASKA    24    MIAMI    17
Two fourth-quarter touchdowns helped No. 1 Nebraska overcome a 17-9 deficit, giving Coach Tom Osborne a 24-17 win over the University of Miami and his first national championship as a head coach.
JANUARY 1, 1996
FLORIDA STATE WINS 11TH STRAIGHT BOWL GAME
FLORIDA STATE    31    NOTRE DAME    26
Florida State rallied to score 17 late fourth-quarter points in Orange Bowl Stadium, beating Notre Dame, 31-26.
DECEMBER 31, 1996
ORANGE BOWL MOVES TO PRO PLAYER STADIUM

NEBRASKA    41    VIRGINIA TECH    21
The 63rd annual FedEx Orange Bowl, played for the first time in its new home of Pro Player Stadium, saw the Nebraska Cornhuskers defeat the Hokies of Virginia Tech, 41-21, on New Year's Eve.
JANUARY 2, 1998
OSBORNE ENDS CAREER ON-TOP
NEBRASKA    42    TENNESSEE    17
The Cornhuskers rolled up 534 yards of offense, including 409 on the ground, to send legendary head coach Tom Osborne into retirement with his third national title. Nebraska closed things out with a touchdown drive consisting of nine consecutive running plays. The victory closed out the Osborne era in grand style.
JANUARY 2, 1999
GAME RETURNS TO ORANGE BOWL STADIUM
FLORIDA    31    SYRACUSE    10
Returning to the Classic for the first time since 1967, the Florida Gators used a 28-point first half and a stingy defense to put the finishing touches on the Orangemen 31-10. The 65th annual FedEx Orange Bowl also made a curtain call to the stadium it called home for more than 60 years, Orange Bowl Stadium.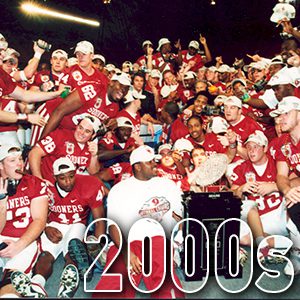 JANUARY 1, 2000
ORANGE BOWL GOES TO OVERTIME

MICHIGAN    35    ALABAMA    34 (OT)
The first FedEx Orange Bowl of the new millennium saw an overtime thriller between the University of Alabama and the University of Michigan end with a 35-34 overtime victory for the Wolverines.
JANUARY 3, 2001
SOONERS EARN NATIONAL TITLE
OKLAHOMA    13    FLORIDA STATE    2
Oklahoma entered the game with a perfect 12-0 record, but was still considered the underdog to No. 2 Florida State, two-times the national champs in the '90s.
JANUARY 2, 2002
OFFENSIVE SHOWCASE FOR GATORS

FLORIDA    56    MARYLAND    23
Heisman runner-up Rex Grossman did not start, but relieved Brock Berlin and completed 20 of 28 passes for 248 yards and four touchdowns to lead Florida to a 56-23 victory over Maryland. The Gators air attack was led by MVP Taylor Jacobs who turned in a 10-catch, Orange Bowl-record 170-yard, two-touchdown performance. The 170 yards were 11 more than the record held by Alabama's Ray Perkins (1966) and Florida's Travis Taylor (1999).
JANUARY 2, 2003
PALMER LEADS USC ROUT OF IOWA

SOUTHERN CALIFORNIA    38    IOWA    17
The 2003 FedEx Orange Bowl match-up between Southern California and Iowa restored a traditional postseason match-up between Big Ten and Pac-10 conference champions. It was just a tad further east than normal. This traditional Pasadena match-up played out instead in South Florida and created a tremendous amount of interest on the national scene. In the end, it was the perfect ending to a storied season and collegiate career for So. California's star-quarterback Carson Palmer.
JANUARY 1, 2004
IN-STATE RIVALS MEET IN ORANGE BOWL

MIAMI    16    FLORIDA STATE    14
The 2004 FedEx Orange Bowl saw one of the fiercest annual rivalries meet for the first time in a bowl setting. The Hurricanes Jarett Payton ran for 131 yards in his final collegiate performance to take home the MWP. Freshman kicker Jon Peattie converted three field goals and the Miami defense shut out Florida State in the second half in a 16-14 win.
JANUARY 4, 2005
HEISMAN WINNERS FACE-OFF
SO CALIFORNIA    55    OKLAHOMA    19
2004 Heisman Trophy winner Matt Leinart faced off against 2003 Heisman Trophy winner Jason White as the Orange Bowl hosted its 18th National Championship, six of which have included Oklahoma.
JANUARY 3, 2006
PENN STATE WINS IN TRIPLE OVERTIME
PENN STATE    26    FLORIDA STATE    23 (3OT)
It's not very often when a game lives up to all the hype, but the 2006 FedEx Orange Bowl was one for the ages.In a game that lasted nearly five hours, it was Penn State that outlasted Florida State.
JANUARY 2, 2007
CONFERENCE CHAMPIONS COLLIDE

LOUISVILLE    24    WAKE FOREST    13
The 73rd Orange Bowl Classic was a contest between first-time participants, Wake Forest and Louisville.
JANUARY 3, 2008
DREAM SEASON CONTINUES FOR KANSAS

KANSAS  24    VIRGINIA TECH    21
In a classic match up between the nation's second ranked scoring defense in the Virginia Tech Hokies (15.5 ppg) against the nation's second ranked scoring offense in the Kansas Jayhawks (44.3 ppg), something had to give in the 2008 FedEx Orange Bowl. Kansas (12-1), perhaps the biggest surprise in college football during the season, won in its first Bowl Championship Series game to set a team record for victories. The previous year, the Jayhawks went 6-6. The Hokies would finish the year 11-3.
JANUARY 1, 2009
TECH EARNS FIRST BCS WIN

CINCINNATI    7    VIRGINIA TECH    20
The opening moments were filled with just about every problem Virginia Tech coach Frank Beamer feared his team would have against Cincinnati.
JANUARY 8, 2009
GATORS RIDE TEBOW, DEFENSE TO TITLE
FLORIDA    24    OKLAHOMA    14
In a game that featured two of the county's most dynamic offenses and two Heisman Tropy winning quarterbacks, it was the defensive grudge match between the second-ranked Florida Gators and top-ranked Oklahoma Sooners that dominated the 2009 BCS National Championship.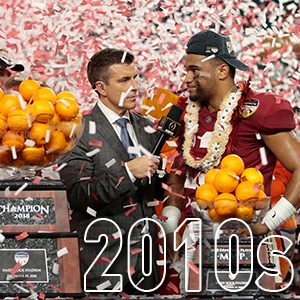 JANUARY 5, 2010
IOWA STOPS TRIPLE-OPTION COLD

IOWA  24    GEORGIA TECH    14
In a game that featured one of the most dynamic offenses in the nation against one of the country's stingiest defenses, it was the #10 Iowa Hawkeyes solving the #9 Georgia Tech's triple option attack for a 24-14 victory at the 2010 FedEx Orange Bowl. This was the coldest Orange Bowl game yet with a temperature of 49 degrees at kickoff. Adrian Clayborn earned the FedEx Orange Bowl's Most Outstanding Player award with two sacks and nine tackles.
JANUARY 3, 2011
LUCK, FLEENER POWER STANFORD PAST HOKIES

STANFORD    40    VIRGINIA TECH    12
Stanford turned a tight game into a runaway in the second half, outscoring Virginia Tech 27-0 following intermission as long scoring plays dominated the night.
JANUARY 4, 2012
WEST VIRGINIA WINS RECORD-SETTING ORANGE BOWL
WEST VIRGINIA   70    CLEMSON    33
The West Virginia Mountaineers rode a record-breaking offensive performance by quarterback Geno Smith, who grew up in the shadow of Sun Life Stadium, to defeat the Clemson Tigers 70-33 in the 2012 Discover Orange Bowl. The Mountaineers' 70 points set an all-time bowl record while Smith's six touchdown passes and Tavon Austin's four touchdown receptions both set Orange Bowl records and tied all-time bowl records.
JANUARY 1, 2013
'NOLES RUN AWAY FROM HUSKIES
FLORIDA STATE   31    NORTHERN ILLINOIS    10
Senior fullback Lonnie Pryor, voted the game's outstanding player, ran for a career-high 134 yards and two scores on only five carries. Senior EJ Manuel threw for 291 yards, while the Seminoles stuffed Huskies' QB and all-purpose threat Jordan Lynch for most of the night.
JANUARY 7, 2013
TIDE ROLL TO THIRD CROWN IN FOUR YEARS
ALABAMA   42    NOTRE DAME    14
Led by running back Eddie Lacy and quarterback AJ McCarron, the No. 2 Crimson Tide rolled top-ranked Notre Dame 42-14 in the Discover BCS National Championship Game, locking up Alabama's second straight national title and third in four years.
JANUARY 3, 2014
CLEMSON WINS A HIGH SCORING, RECORD BREAKING, NAIL-BITTER
CLEMSON    40    OHIO STATE    35
Two of the country's most potent offenses, Clemson and Ohio State, faced off in the 80th Orange Bowl. It was the first time the two teams played each other since the 1978 Gator Bowl and the star players lived up to the hype. The Clemson Tigers were able to squeak past the Ohio State Buckeyes with a late score and an interception in the final two minutes to seal the victory.
DECEMBER 31, 2014
GEORGIA TECH RUSHES TO VICTORY IN 81ST CAPITAL ONE ORANGE BOWL
GEORGIA TECH    49    MISSISSIPPI STATE    34
The ringing of the cowbells from Mississippi State fans that made the trip to South Florida from "Stark Vegas" and elsewhere could be heard all night, but it was the Georgia Tech faithful who rang in the New Year with a victory in the 2014 Capital One Orange Bowl.
DECEMBER 31, 2015
THE CLEMSON TIGERS WIN THE 2015 COLLEGE FOOTBALL PLAYOFF SEMIFINAL AT THE CAPITAL ONE ORANGE BOWL
CLEMSON    37    OKLAHOMA    17
After giving away momentum and trailing 17-16 at halftime, No. 1 Clemson roared back in the second half, shutting out No. 4 Oklahoma, and beating the Sooners 37-17 in the Capital One Orange Bowl and advancing to the national championship game.
DECEMBER 30, 2016
FLORIDA STATE WINS THE 2016 CAPITAL ONE ORANGE BOWL
FLORIDA STATE    33    MICHIGAN    32
Florida State's Dalvin Cook came to the Capital One Orange Bowl as a great player and did nothing but enhance his standing, but more importantly, teammate Keith Gavin arrived as an unknown and put himself in the Seminole history books forever.
DECEMBER 30, 2017
THE WISCONSIN BADGERS WIN THE 2017 CAPITAL ONE ORANGE BOWL
WISCONSIN  34    MIAMI  24
Wisconsin took its first-ever appearance in the Capital One Orange Bowl and made it a memorable one, taking down the Miami Hurricanes in their home territory 34-24. Badgers quarterback Alex Hornibrook threw for 258 yards and four touchdowns to earn MVP honors.
DECEMBER 29, 2018
ALABAMA CRIMSON TIDE ROLL TO VICTORY
ALABAMA 45    OKLAHOMA  34
The heavily favored Crimson Tide scored touchdowns on their first four possessions and then held off the nation's top-ranked offense on their way to a 45-34 victory over Oklahoma in a College Football Playoff Semifinal at the Capital One Orange Bowl in front of a sold-out, raucous 66,203 fans at Hard Rock Stadium.
DECEMBER 30, 2019
GATORS WIN THE 2019 CAPITAL ONE ORANGE BOWL
FLORIDA 36    VIRGINIA  28
Lamical Perine made the most of his opportunities, scoring three first-half touchdowns to lead the Florida Gators past the Virginia Cavaliers 36-28 in the Capital One Orange Bowl in front of 65,157 at Hard Rock Stadium.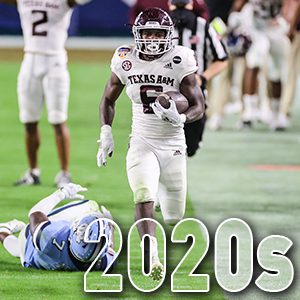 JANUARY 2, 2021
AGGIES RUN PAST NORTH CAROLINA

TEXAS A&M  41    NORTH CAROLINA    27
Devon Achane's two touchdowns in the final 3:44 put Texas A&M ahead and sealed their victory over the 14th ranked Tar Heels. The Aggies finished the night with 225 yards and five scores on the ground and capped off the season with their highest final AP poll ranking since 1939.
DECEMBER 31, 2021
DAWGS SHUT DOWN WOLVERINES EN ROUTE TO A NATIONAL CHAMPIONSHIP

GEORGIA  34    MICHIGAN   11
Georgia's defense shut down the Wolverines all night in a dominate victory in the 2021 College Football Playoff Semifinal at the Capital One Orange Bowl. The Bulldogs went on to the College Football Playoff National Championship, where they defeated Alabama 33 – 18 to secure Georgia's first National Championship since 1980.
DECEMBER 30, 2022
TENNESSEE DEFEATS CLEMSON IN A BATTLE OF THE ORANGES
TENNESSEE  31    CLEMSON   14
Orange Bowl MVP Joe Milton III's three touchdowns led the No. 6 Tennessee Volunteers over the No. 7 Clemson Tigers in the 2022 Capital One Orange Bowl. The win capped off Tennessee's best season since 2001 with 11 wins.