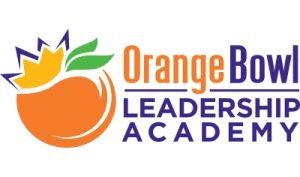 VISION
To nurture and cultivate the next generation of future Orange Bowl Committee and South Florida community and business leaders.
MISSION
To engage and inspire 6th -8th  grade youth in South Florida to maximize their potential to become future successful community leaders through the access and exposure to career development and personal leadership and life skills.
SUMMARY
The Orange Bowl Leadership & Character Academy will provide South Florida youth the opportunity to dream and develop a plan to achieve those dreams, to set and achieve personal goals and objectives, and to understand their options in life for success at home, their careers, and in the community.
The Academy will be geared towards delivering the following desired outcomes:
Organizational
Impact a diverse group of youth with organizational resources
Create a replicable model for youth leadership
Generate community support to foster the success of/with our youth
Make a bold and lasting impact
Extend and integrate with other complimentary programs
Individual
Inspire and unleash individual youth potential and leadership
Create career development awareness, knowledge, and opportunities
Positively impact support systems for youth participants: teachers, parents, and coaches
Foster character development and responsibility geared to elevating individual empowerment, efficacy, and self-esteem (such core values as responsibility, kindness, consideration, and respect)
With the guidance of The Pacific Institute program design and implementation team, the Academy will be managed through the Orange Bowl Committee Community Relations Department and under the auspices of the Community Outreach Committee. The Academy will be developed primarily through workshops and interactive activities conducted by Orange Bowl Committee Staff, members, and community partner professionals.